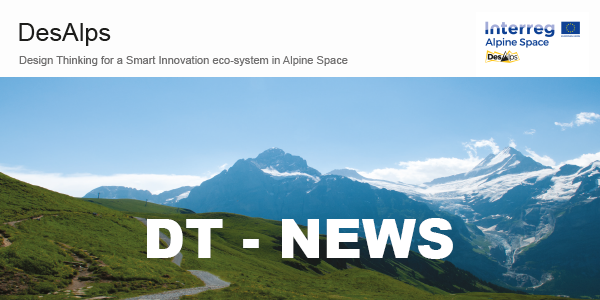 4 Kinds of Design Thinking
The Design Thinking (DT) approach has been described as the capacity of designers and professionals to face complex problems, reframing them through the identification of emerging themes. In order to better understand the main features of such a "reframing process" very recently an investigation has been conducted by POLIMI on how DT could support enterprises. The research shows that there is not a single approach to adapt to all problems emerging by innovation processes, but that it is possible to recognize four main models: Creative Problem Solving, Sprint Execution, Creative Confidence, Innovation of Meaning.
What Did We Learn from Our International Design Thinking Trainings?
Since October 2017 we carried out several training actions in Design Thinking (DT). After finishing this big milestone in our DesAlps project we paused to look back on capturing lessons learnt from our DT training sessions in order to record good practices which can be repeated in future DT workshops, improve the performance of DT workshops as well as create a learning environment.
International Design Thinking Day
Over 150 participants from Slovenia, Austria, Italy, France and Germany discussed the integration of the design thinking process and the introduction of new innovative approaches that will lead to new custom tailored products and services. According to Prof. Dr. Jonathan Edelman (Hasso Plattner Institute, Postdam) DT has been transformed in recent years. The success and longevity of DT depends on how well its principles are understood and performed. He emphasized the importance of empathy introduced by designer thinking in the implementation of digitization.
Design Thinking Lab: the DesAlps Virtual Community
Design Thinking Lab is the DesAlps virtual community for Design Thinking experts, innovators, designers, acting as a Design Think hub for professionals and companies, where members can learn about cutting-edge methodologies, share experience and interests on different topics, discuss about case studies, find partnership to launch new projects. Design Thinking Lab will serve as an inspiring tool to gather the attention of local SMEs, by creating awareness about a place where resources and experts on Design Thinking can be found, and where they can self-assess their level of maturity on their innovation process stage. The DT Lab will be soon open to the public.