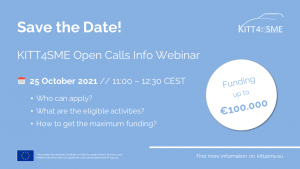 KITT4SME project, announces an Open Call lately; Now our Type-A open call is open, which we are looking for AI technology developers to disseminate € 1 Million, and we are organizing an online event to promote it next Monday.
As KITT4SME, our objective is to develop an online platform which brings together the affordable, tested and validated AI solutions of the technology providers and the SMEs in manufacturing sector from all over Europe. With the Type-A open calls, we are looking for AI technology providers having a mature AI solution. The applicants will be asked to integrate their AI solution to KITT4SME platform and will be offered € 100.000 of EU funding in return. Next week, we are organizing a webinar on 25 October 2021 at 11:00 CEST on Zoom, to clarify all the details about the open calls.
We think that this could be a collaboration opportunity: by spreading the word among your community, you can help the technology providers in your network to receive EU funding and help us to receive high quality applications.
In which of the following options do you think we work together in reaching our target audience in your network?
• Forwarding the attached Info Sheet to the SMEs or mid-caps which are developing AI solutions for the manufacturing sector and let them know about our open calls and the Info Webinar?
• Your corporate social media accounts following our Twitter and LinkedIn accounts and interact (RT, like, share…) with the posts that we will be sharing in the following days?
• Placing a news article in any of your periodic newsletters or bulletins?
• Organizing a local online event just for the companies in your network?
Any other option that you may suggest will also be more than welcome.
For any questions, please contact ivana.basljan@icent.hr. We would be happy to assist you.